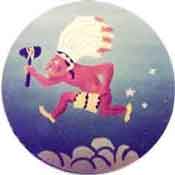 556TH BOMBARDMENT SQUADRON, MEDIUM
Shootin' In
Martin B-26B-50-MA Marauder
Sn: 42-95857
Squadron Code: FW-K
| | | |
| --- | --- | --- |
| First Sortie | Last Sortie | Total |
| 18 Mar 44 | 19 Apr 45 | 133 |
Crew Chief: T/Sgt. Lester Chase
Asst. Crew Chief: Cpl. Clyde Davidson
Asst. Crew Chief: Cpl. John Pierce
Shootin' In was one of the squadron's most durable and reliable aircraft, completing 135 combat missions by war's end.

On November 22, 1943, the USAAF accepted twelve B-26B-50 Maurauders from the Glenn L. Martin Company. Seven of these were sent to the 9th Air Force in England. Of these seven, three were eventually listed as missing in action and the other four survived the war to be scrapped in 1946.
Number 42-95857 was delivered to the 387th Bombardment Group at Chipping Ongar, Essex, England in early 1944 as a replacement aircraft. She was assigned to Lt. Asa Clark, who with crew named her Shootin' In. The name derived from an expression used to describe a quick trip to London on an overnight pass; airmen would say they were "shootin' in" to London. She was scheduled for her first mission on March 18. On her second mission 556th C.O. Major Glenn Grau used her to lead the group's second box, and she was often used as a lead aircraft thereafter. Shootin' In received serious damage on June 23, during her 38th mission, and again on July 18 when heavy flak damaged eighteen of the Group's aircraft.
On July 21 the 387th Bombardment Group moved to Stony Cross in Hampshire, but Shootin In was still under repair. Flak had damaged a fuel cell and this was in the process of being changed when the Group left. So the ground crew under T/Sgt Chase and a flight crew were left at Chipping Ongar with a box of rations to tide them over until the repairs were completed. She rejoined the group a couple of days later.
On August 22 the Group moved to Station A-15 at Maupertus-sur-mer, France, the first B-26 unit to arrive on the continent.
On April 19 Shootin' In flew her final combat missions, numbers 134 and 135.
In October Shootin' In was ferried to storage in Landsberg, Germany with the rest of the Group's aircraft. She was among the many B-26s systematically scrapped at Landsberg in the spring and summer of 1946.
The U.S. Air Force Museum at Wright Patterson Air Force Base has on display a B-26 (43-34581) which has been museum-painted to resemble the original Shootin' In.