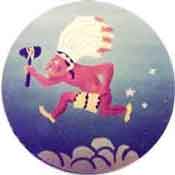 556TH BOMBARDMENT SQUADRON, MEDIUM
Itsy Bitsy
Martin B-26B-20-MA Marauder
Sn: 41-31679
Squadron Code: FW-K
| | | |
| --- | --- | --- |
| First Sortie | Last Sortie | Total |
| 24 Aug 43 | 8 Aug 44 | 58 |
Crew Chief: T/Sgt. James E. Stalnaker
Asst. Crew Chief: Sgt. Seymour Cohen
Itsy Bitsy was one of the original cadre of B-26s that formed the 556th Bomb. Squadron. Navigator Art Newett reports that he suggested the name: Pilot Jess Watson's wife was nicknamed "Bitsy". The crew to which the aircraft was originally assigned and that flew the aircraft from the United States to England was:

Pilot
CP
B/N
EG
ROG
AG
C.C.
1st Lt.
2nd Lt.
2nd Lt.
S/Sgt.
T/Sgt.
S/Sgt.
T/Sgt.
Jess A. Watson
Thomas W. Deering
Arthur W. Newett, Jr.
Curtiss L. Christley
Andrew Smerek
Carl O. Kihlstrom
James E. Stalnaker
Itsy Bitsy made a total of 58 sorties. On August 8, 1944 the aircraft was scheduled to participate in a mission against the Soesterberg Airfield. During formation assembly, Itsy Bitsy and Double Trouble collided in the clouds. 2nd Lt. Sam Ayers, piloting Itsy Bitsy, was able to safely crash-land his stricken plane. 1st. Lt. Edward Sargant's crew was not as fortunate; all were killed in action when Double Trouble plunged to earth and crashed. Itsy Bitsy was salvaged for parts.