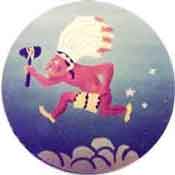 556TH BOMBARDMENT SQUADRON, MEDIUM
Hangover Hut
Martin B-26B-20-MA Marauder
Sn: 41-31694
Squadron Code: FW-F
| | | |
| --- | --- | --- |
| First Sortie | Last Sortie | Total |
| 31 Jul 43 | 17 Apr 45 | 152 |
Crew Chief: T/Sgt. Thomas F. Coughlin
Asst. Crew Chief: Sgt. "Pete" Petrie
Hangover Hut was one of the original cadre of B-26s that formed the 556th Bomb. Squadron. The crew to which the aircraft was originally assigned and that flew the aircraft from the United States to England was:

Pilot
CP
B/N
EG
ROG
AG
C.C.
1st Lt.
2nd Lt.
2nd Lt.
S/Sgt.
T/Sgt.
PFC
T/Sgt.
William H. Sanders
Edwin J. Anderson
Carl M. Caudill
Raymond E. Vogel
Benjamin Costello, Jr.
Joseph A. Alfree
Thomas F. Coughlin
Hangover Hut flew on both th Group's first combat mission on July 31, 1943, when it flew diversion for the B-17s, and its last on April 26, 1945, against oil storage tanks at Schrobenhausen, Germany. In the latter mission the Group was recalled three minutes from base because the target had been overrun by the fast-advancing U.S. ground forces; the Group did not get credited for the mission because it never entered hostile air space.