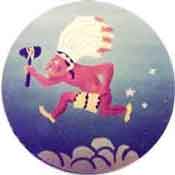 556TH BOMBARDMENT SQUADRON, MEDIUM
Gravel Agitator
Lady Janet
Martin B-26B-20-MA Marauder
Sn: 41-31700
Squadron Code: FW-O/FW-Z
| | | |
| --- | --- | --- |
| First Sortie | Last Sortie | Total |
| 31 Jul 43 | 19 Feb 45 | 79 |
Crew Chief: T/Sgt. Frank Gregg
Asst. Crew Chief: Cpl. John F. Dalton
Asst. Crew Chief: Cpl. Bert P. Darden
Gravel Agitator was one of the original cadre of B-26s that formed the 556th Bomb. Squadron. The crew to which the aircraft was originally assigned and that flew the aircraft from the United States to England was:

Pilot
CP
B/N
ROG
AG
Major
2nd Lt.
2nd Lt.
M/Sgt.
Sgt.
Walter J. Ives
Philip H. Moore
Morris B. Klein
Elbert J. Pryor
John L. Marshall
Engineering Officer 1st Lt. Ray T. Norman and Line Chief M/Sgt. Paul A. Stackhouse accompanied the aircraft on its trip to England.
Gravel Agitator, squadron code FW-O, was initially assigned to Major Walter J. Ives, the first C.O. of the 556th, and was flown by him on 20 of its first 28 scheduled sorties (of which 25 were credited). Major Ive's lead combat crew was:

Pilot
CP
Nav.
Bomb.
EG
ROG
AG
Major
2nd Lt.
2nd Lt.
2nd Lt.
S/Sgt.
T/Sgt.
S/Sgt.
Walter J. Ives
Francis D. Scurr
Joseph Nestor
Carl B. Cooper
Willis G. Kelce
Charles A. Martyn
William H. Berry
For its 25th sortie, on November 10, 1943, Capt. William R. Brown piloted Gravel Agitator as part of the attack on the Lille-Vendeville Airdrome. Brown crash-landed at an RAF base at Bradwell Bay in Essex.
When the aircraft rejoined the 556th after an absence of seven months for a new "face lift," the aircraft renewed her deadly career with a new name, Lady Jane, and completed another 54 sorties. Its last combat sortie was on February 19, 1945 as part of an attack on a railroad bridge at Niederscheld. It remained in service as a trainer and utility aircraft until a month after war's end.